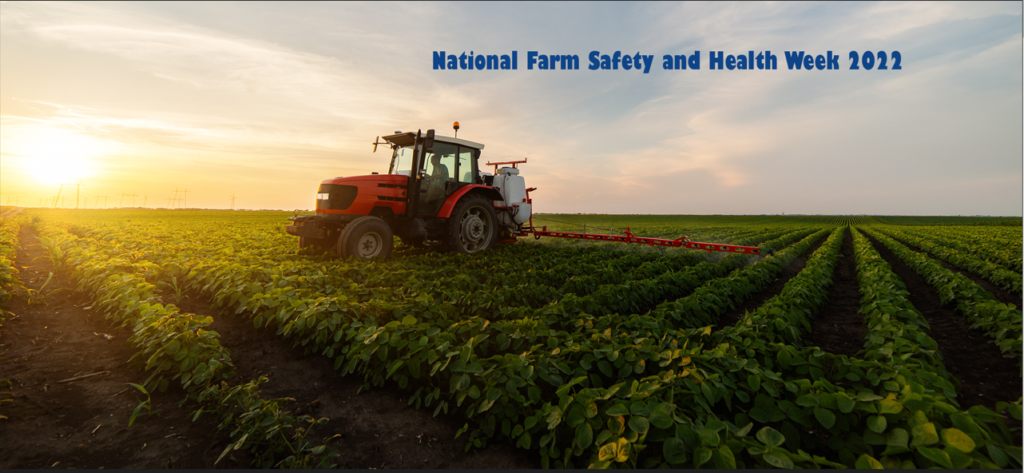 September 18-24 marks National Farm Safety and Health Week, sponsored by The National Education Center for Agricultural Safety and recognized by the National Safety Council. This campaign promotes and highlights a new daily topic on farm safety and health, such as Rural Roadway Safety or Safety & Health for Women in Agriculture.
Farm safety is important because agriculture is one of the most dangerous industries for workers. The National Safety Council ranks Agriculture, Forestry, Fishing & Hunting with the highest industry death rate in 2020 (22 deaths per 100,000 workers). This industry also ranked third in total deaths (511 fatalities) and non-fatal injury rate (189 per 10,000 workers).
Transportation Awareness
Transportation incidents were the leading cause of death for agriculture workers in 2020. The National Institute for Occupational Safety and Health (NIOSH) aims to reduce fatalities from tractor accidents by recommending a Certified Roll-Over Protection System (CROPS) These systems, in conjunction with seatbelts, can prevent deaths from equipment overturns. In 2014, the Center for Disease Control and Prevention (CDC) estimated that only 62% of tractors were outfitted with a CROPS.
Confined Space Incidents
Farming often requires workers to enter confined spaces – such as grain silos, manure storage facilities, liquid storage tanks, and grain transport vehicles. Confined spaces have a high fatality rate as Purdue University reports that 50% of confined space incidents were fatal in 2020.
Confined spaces have been a considerable risk of death for decades. For example, farm workers that enter storage silos can be engulfed by grain. As the worker sinks to the bottom, the tiny particles shift around quickly and lock together like quicksand, suffocating them under the weight of the grain. In 2019, the American Society of Agricultural and Biological Engineers (ASABE) published a voluntary standard aiming to reduce risks of grain entrapment in new steel, corrugated grain bins.
According to Purdue University, "the standard, identified as ANSI/ASABE S624, Grain Bin Access Design Safety provides recommendations for safe bin access, anchor attachment points for lifelines, and a uniform safety decal. This standard, however, only applies to new grain storage bins. Efforts are needed to assess older facilities to identify needed upgrades, such as new signage, fall prevention features and guarding of powered components, such as in floor augers. The lack of adequate anchor points on older structures remains a significant concern when using fall restraints and during rescue operations."
Learn more about this campaign here.