Our Summer Spotlight series shines a light on the uniqueness of our Dawood team members. Diversity is key, as we all look to excel in a world of possibilities. Today, we speak with Senior Transportation Planner Scott Bechard, AICP.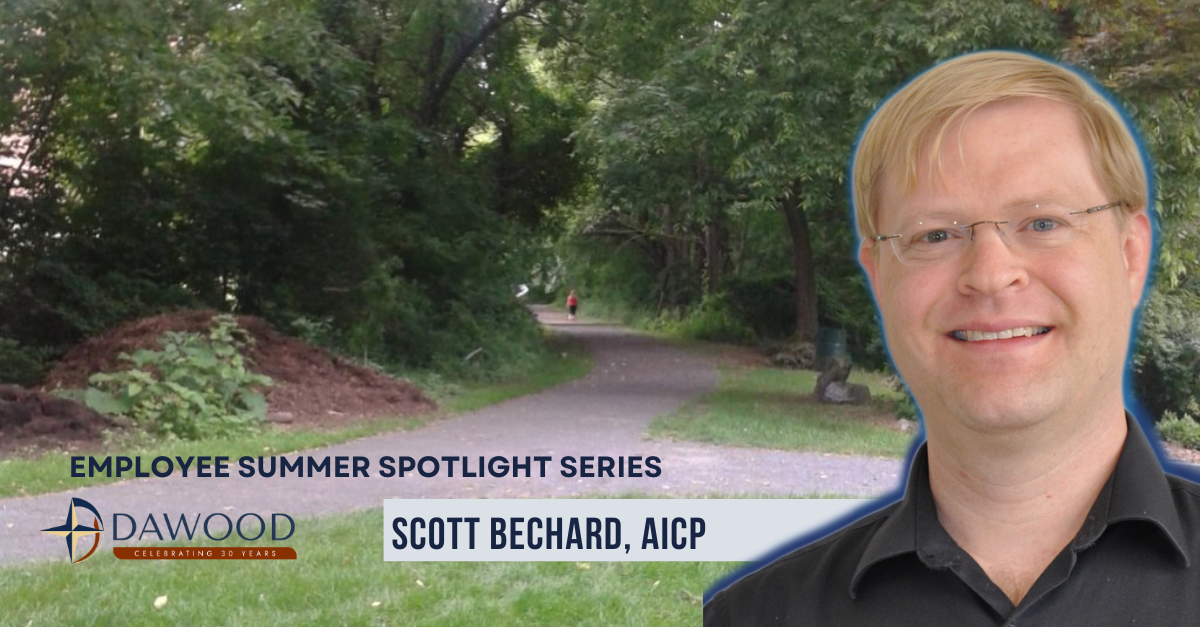 What is your role at Dawood?
As a Senior Transportation Planner and Certified Planner (AICP) , I oversee the completion of traffic engineering and planning studies such as Transportation Impact Studies, corridor planning, parking studies, speed reduction studies, trip generation studies, and multimodal planning. I also manage signal projects through construction phase, deliver Highway Occupancy Permit reviews for PennDOT and municipal clients, and provide traffic signal design and support services for Dawood's municipal, land development, and highway groups.
Talk about a notable project and how you measure success.
I managed the Sidewalk Study Project for the Tri-County Regional Planning Commission Regional Connections Planning Grant in Swatara Township, Dauphin County. This Township-wide transportation planning study included a comprehensive inventory of all public pedestrian amenities within Swatara Township, Pennsylvania.
The final product included a detailed report and dynamic GIS resources to identify and prioritize future high-value projects to efficiently target limited escrow funding. The project was awarded the 2020 Tri-County Regional Planning Commission Premier Project Award.
How did you first learn about Dawood?
My first experience with Dawood was in 2007 when working for another firm. At that time, Dawood served as Silver Spring Township's Engineer and the Traffic Services Group reviewed a Transportation Impact Study I submitted to the Township. I joined Dawood a year later.
Tell us three things most people don't know about you…
I twist balloon animals at birthday parties and various functions.
I enjoy baking pies from scratch.
I speak German.
What do you always want to try and never did?
I have been planning to compete in the Fat & Bald Classic wrestling tournament for several years as soon as I get back into competition condition. Despite the fun name, it can be a pretty serious event. I've always wanted to compete, but know I need to get into shape first.
Where do you see yourself with Dawood in 10 years?
I would like to be involved in mentoring the next generation of Dawood employees. I've been working in the industry for 21 years (with Dawood for 13), and believe that I have a significant amount of technical knowledge to share, along with institutional knowledge from past Dawood projects.
What's on your wish list?
I'd like to purchase several new radar traffic counters to improve safety during Dawood's data collection efforts. The new traffic counters operate using radar technology, which eliminates the need to fasten rubber tubes to the road, and also improve data accuracy.