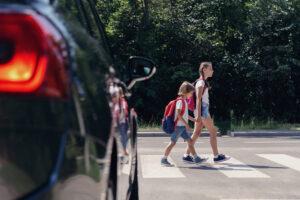 For this week's Back to School Month safety topic, we examine how to avoid unsafe driving decisions when attempting to beat the clock during morning and afternoon commutes. With summer winding down, it's important to avoid complacency and account for increased school traffic.
Focus
Similar to "highway hypnosis," drivers can become complacent during less-congested summer commutes. The sudden influx of late August school traffic requires drivers to remain vigilant and heighten awareness.
Plan Ahead
To compensate, leave home early and account for greater commute time considering:
additional vehicle traffic
school bus stops
students in crosswalks
reduced school zone speed limits.
Avoid risky decisions caused by driving in a hurry! Arrive safe and enforce best practices:
drive the speed limit, especially in school zones
approach right turns on red with caution when traveling through intersections
slow down when the traffic signal turns yellow—don't try to beat the red light
stay alert when driving behind a school bus
don't drive around school buses and remember—stop your vehicle when a school bus is loading or unloading students.
Stay Informed
Our team specializes in multi-modal engineering and community planning. We understand the importance of transportation systems, signage, and pedestrian resources—from traffic signals, crosswalks, and sidewalks to safety attire and equipment.
Reach out to our experts at healthandsafety@dawood.cc to learn more about how we can help to ensure safer connections in your community, and be sure to review the National Safety Council back-to-school checklist.